MAMA: Hellenic Center for Marine Research (HCMR)

MARINE DATASET IMAGES FOR GREEK SEAS (EASTERN MEDITERRANEAN):

Sea Surface Height
HCMR contributes to MAMA WP 1, WP 2, WP 3, WP 5, and WP 8.

HCMR scientific team:

Kostas Nittis (Scientific Responsible)
Panos Drakopoulos
Ioannis Karakassis
Vasilis Valavanis

A Project by The Mediterranean Global Ocean Observing System (MedGOOS)

MAMA: Mediterranean network to Assess and upgrade Monitoring and forecasting Activity in the region is a 3-year EU-funded project,
with a partnership from all the riparian countries, that aims to establish the multi-national network and regional platform for routine marine
observations and forecasts in the Mediterranean.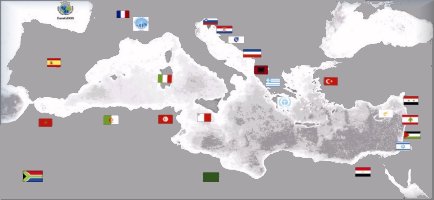 MAMA Consortium with a representation from all the Mediterranean countries:
Italy, Malta, Slovenia, Bosnia & Herzegovina, Greece, Cyprus, Turkey, Morocco,
Tunisia, Israel, Algeria, Lebanon, France, Syria, Libyan Arab Jamahiriya, Albania,
Croatia, Yugoslavia, Palestine Authority, Egypt, Spain as well as United Kingdom.

More information on MAMA: MAMA-NET.ORG
------
Updated: April 2004. mail